Nadia directs "La Casa de Bernarda Alba" at Seminole State College (SSC). The play was performed in both English and Spanish, making this SSC's first full Spanish speaking production!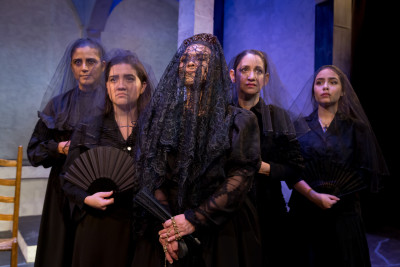 Nadia is humbled by her return to SSC's stage as a director and she considers this a wonderful opportunity to support and showcase Latin American Talent.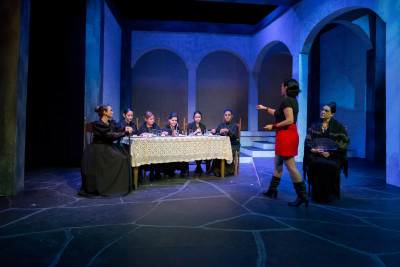 "It is an honor for me to direct this production and especially to have the opportunity to also perform it in its original language, Spanish. I am thrilled to be part of the first ever Spanish speaking play produced at the Seminole State College. In my work, I am very interested in decolonization through theater, meaning recognizing the values, realities, experiences, truths, and voices that have been silenced by cultural hegemony. While The House of Bernarda Alba is a European play, doing theater in Spanish in the context of the United States is, in my opinion, an act of decolonization; and in the case of this production, decolonization is also having a group of actresses (yes, all women) proudly showcasing their different Latin American dialects in Spanish and their Latino accent in English. Through our work, we are providing a space to recognize the Latin American experiences and contributions, which often times are erased, denied, and devalued."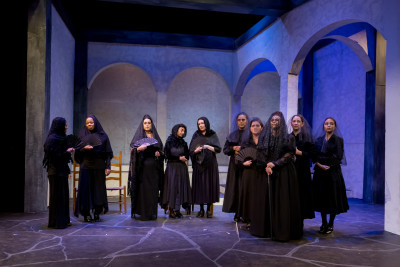 The play was very well received by both the English speaking and the Spanish speaking audiences and received wide press coverage.
Click below to see reviews and press links, including an interview with WMFE's Spotlight.
WMFE Spotlight (Make sure to play the audio!)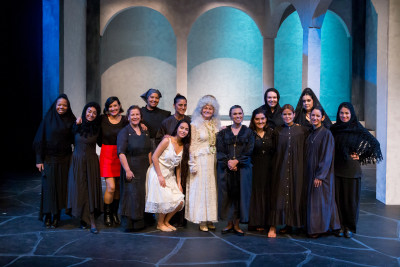 Nadia is thrilled and thankful to share this experience with such wonderful group of women!